There lives a family of bears in Windsor Forest whose ancestral roots are as ancient and majestic as the great oak trees that give them their hidden homes.
Billy Bears are a collection of  traditionally jointed Teddy Bears, handmade in their Woodside studio on the edge of Windsor Great Park in the UK. 
Each bear has a unique character and personality and is crafted in the finest quality pure mohair and faux fur fabrics with quality fibre fillings and each is distinguished by a distinctive goldwork oak leaf which is hand worked onto one of their suede footpads.
They are designed as heritage collectables, using traditional jointing methods but with safety eyes and noses, making them suitable to responsible collectors aged 3 and over.  If you would like to adopt a Billy Bear of your own, we trust that you will show them love and protection and in return they will reward you with countless cuddles!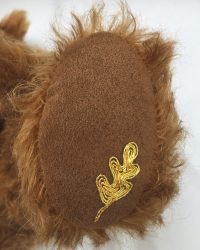 Explore the world of Billy Bears
Visit the online shop to view our range of handmade, original toys and collectables.
Billy Bear Ambassadors
Find out about The Billy Bear History!
Send a message to the Billy Bears